Are You Having Tax Problems with the IRS or State?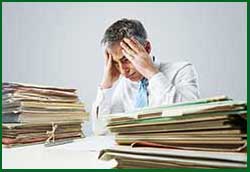 According to
CNN Money
the U.S. economy officially "tanked" into a severe recession in December 2007. There are experts that make a case we've never yet really recovered. In this lackluster economy, companies have been down-sizing, closing, and fleeing high-taxation states —like California— for low-taxation states like Texas, leaving unemployed workers holding the bag.
Many California families are challenged just to clear sufficient income to pay for their mortgage or rent, food and utilities. Filing tax returns, making estimated tax payments sometimes takes a backseat under current financial conditions.
If you are experiencing tax problems – many of your problems are often caused by missing, never completed, or incomplete financial record keeping. Whether an individual or a business, we can get your financial records in order, complete required tax returns, schedules and whatever is needed to get a "big picture" view of where you are and brainstorm a path out of the swamp you find yourself in.
We Can Help You Solve Your IRS and/or State Tax Problems
We can assist you in resolving your tax problems by getting your records in order.
The simple truth is, when your records, receipts, income and expenses are well-documented, you find yourself in the enviable position to fully grasp where you are and where you need to be to get squared with the tax authorities.
We pride ourselves on being quick, organized, efficient and affordable.
The sooner you take that first step, the sooner your stress and anxiety will dissipate. We have numerous clients —past and current— who thought they were never going to see the light at the end of the tunnel. The truth is, once their accounting was in order, their tax documents filed, a simple agreement worked out with the taxing agencies (generally by phone), they were able to get their lives back.
If you owe the IRS and/or State, you have a very serious problem. It may take the IRS several years to spot you on their slow-moving radar, but eventually they will. They are the GOVERNMENT. You are not. They WIN. You LOSE. Our best advice? Best to collect all your stuff, throw it in one or more bankers boxes, and head over to my office so we can start the healing process. You'll thank me! 🙂
---
Our Tax, Accounting & Consulting Services include:
Back Taxes, Unfiled Returns
If you fail to file your tax returns —as an individual or a business— you can be fined, prosecuted and punished (even potential jail time). Better to call us and have us get your records in order, any unfiled tax returns put together and when we have the whole picture before us brainstorm the best strategy to solve your current predicament.
MORE about Back Taxes & Unfiled Tax Returns…
IRS – Audit Representation
Many of our clients are too emotional to best represent themselves at a Phone Audit, ad Desk Audit, or even a Field Audit. Sometimes, it is best if someone who becomes familiar with your finances and current circumstances stand in for you. We will consider standing in as your representative on a case-by-case basis. If we are able to, you'll not need not take time off from work or stress out over the bureaucratic nightmare that is the IRS or State tax agency.
MORE about IRS – Audit Representation…
IRS Levies – Bank Levies
We are often able to reach out to the IRS and/or the State Taxing Agency and get levies released and simultaneously assist you in extracting yourself from a horrible nightmare. Oftentimes when a tax professional contacts a government tax authority asn explains that we are getting the "house in order," they'll back off and give you breathing room. You'd be surprised how a new party to your tax problem can often make lemonade from lemons.
MORE about IIRS Levies – Bank Levies…
Offer in Compromise (OIC)
You've seen the TV commercials: "Settle Your Tax Debt for Pennies on the Dollar!" Well, it is possible. Unfortunately the requirements are very strict and the OIC petitions are often rejected. That said, if you are a good candidate, you should give it a try!
MORE about Offer in Compromise…
IRS Payment Plans
For those who do not qualify for the IRS Offer In Compromise program, the State and the IRS have an Installment Payment Agreement that may may be the best way to resolve your tax problem. Once we submit your proposal and it is accepted by the State and/or the IRS, all collection activities and harassments STOPS! It's a beautiful thing.
MORE about IRS Payment Plans…
IRS Tax Liens – State Tax Liens
Federal and State Tax Liens filed against you by the State of California and the IRS, make easily selling or refinancing your home or other real property, show up on your credit report and sometimes prevent you from opening a bank account. We have experience in getting liens released temporarily (to refinance or sell a home), and permanently by reaching a working agreement with the taxing agency.
MORE about IRS Tax Liens – State Tax Liens…
Innocent Spouse Relief
Innocent Spouse Relief was designed to alleviate unjust situations where one spouse was clearly the victim of fraud perpetrated by their spouse or ex-spouse.
MORE about Innocent Spouse Relief…
Get Your IRS File
Most people would be shocked to find out how much detail the IRS knows about them. As a citizen and a taxpayer, you have a right to obtain a copy of your IRS file. If you are experiencing significant tax problems, getting a copy of your file could be invaluable in brainstorming a course of action to resolving your current tax problems.
---