PayPal Payments Pro
is a Terrific Companion to QuickBooks

Get Paid Faster with QuickBooks Online Invoicing & PayPal Processing
QuickBooks was designed to make your workflow fast – intuitive (i.e. Intuit) and easy. This is especially true when using the QuickBooks Online version. Emailing invoices, with no time lost waiting on slow and expensive USPS snail mail is such an asset to a new or existing business.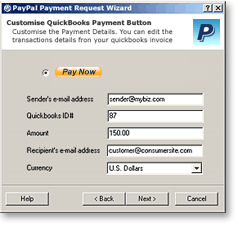 More important to ALL businesses is getting paid PROMPTLY – in the case of QuickBooks online invoicing when coupled with an online credit and debit card processing service can be magical. You have that conversation on the phone with your client. They love your product or service. You ask if you can send an invoice over for a deposit or the entire amount. They say: "Sure, email me your invoice." You do so while still talking. "Did you get it," you ask? "Yes," they say. You tell them any debit or credit card can be used to pay the invoice.
Sometimes, people who remember PayPal form the E-Bay era will have some concerns. "Oh, I see you use PayPal, do I need to have a PayPal account?"
"No, you do not have to have a PayPal account." "In fact, I'm glad you asked. Everyone should have a free PayPal account in case family members end up in a bind while traveling, or college aged-kids need a few bucks in a hurry." PayPal accounts can be used to send money around the world to family and friends for FREE, and that is something to consider when you find out Western Union gets a minimum of $30 bucks for using their ancient low-rent technology which is also totally INCONVENIENT for both parties!
---
PayPal is a worldwide, major Credit Card processor…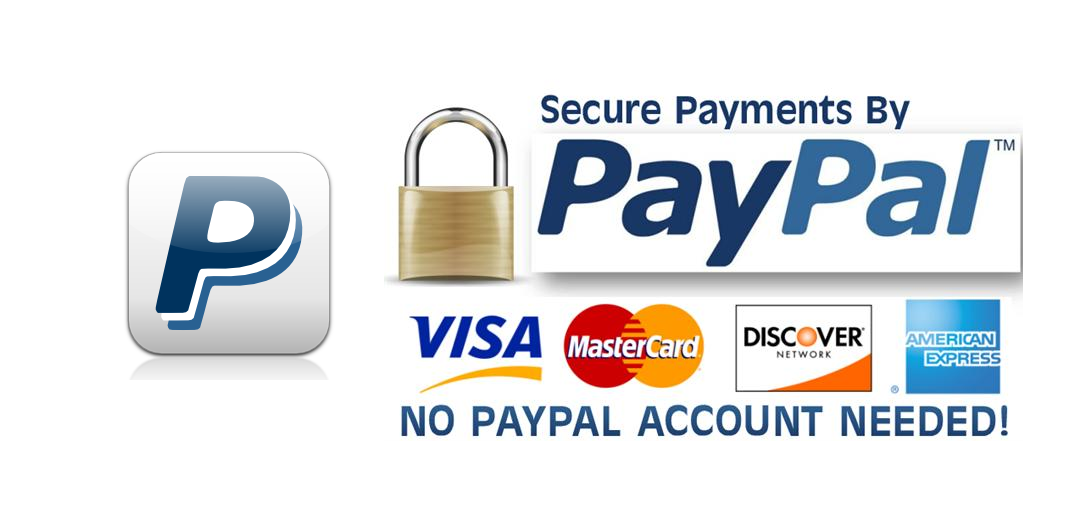 "Oh, Cool… Can you hold on a minute? I'll pay you right now." "Sure no worries, I have my headset phone on — take all the time you need." 60 or 90 seconds later, you usually have an email showing your invoice has been paid BEFORE they pick up the phone to tell you how easy and painless that was.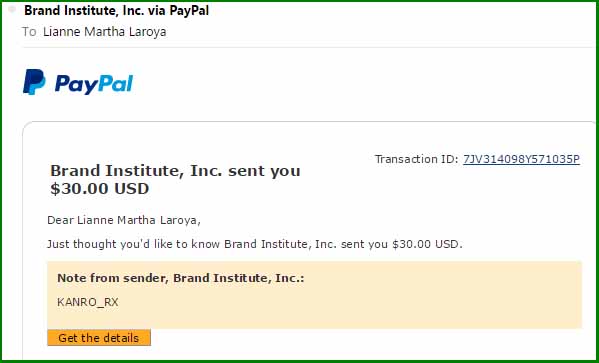 ---
There are Several Credit Card Processing Services for QuickBooks
You can use Intuit's very own credit card processing service – "Intuit GoPayments," the old web standby "Authorize.net," Chase Paymentech, Flagship Merchant Services, or PayPal PaymentsPro.
Intuit is overly-pricey to frugal business owners. There's a case to be made for all credit card processing services, but frankly, every business person should experience the ease of use, the amazing collection of financial tools that PayPal brings to the business computer, home computer, laptop, iPad, tablet, iPhone, Android, wallet or purse of ANY business owner. We have clients who have the old fashioned dial-up credit card processing machines in their store or office but still get PayPal IN ADDITION because they need a reliable service to use on their business website, or to connect to their QuickBooks software for email invoicing and receivables-collection via credit card, debit card, and ACH electronic check processing.
We never hear regrets for the $1/day basic PayPal service. Businesses run on cash flow. Businesses die from not getting paid. QuickBooks and electronic payment processing is ALL part of getting paid faster and more reliably than ever before.
---
Elon Musk – A Modern Day Entrepreneur
Thank entrepreneur Elon Musk for creating:
---
Doesn't EVERYONE already have a PayPal Account?
Everyone should —minimally— get a free PayPal account connected to their bank to avoid HUGE fees that Western Union charges if you ever need to move money to a family member or friends in an emergency anywhere in the world virtually instantly. In our humble opinion, PayPal should be a starting service for a new business – especially a business that provides services where the majority of invoices can be emailed to your clients and your clients won't mind paying a deposit or a percentage or your entire bill online.
PayPal has perfected getting paid online. They've also perfected getting CASH in your hand virtually instantly via a free personal or business debit card that is attached to your credit card processing account.
Immediate Practical Realities of a PayPal Account
The example where your customer paid your invoice while talking on the phone? Say you're in Irvine and they are in Florida. You could walk over to any ATM machine and extract up to $400 per day in cash IMMEDIATELY if you needed to, or pay a bill with the funds now in your PayPal account using that debit card up to $3,000 per day IMMEDIATELY.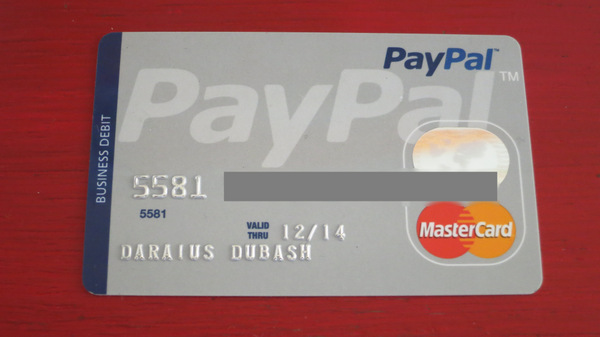 Businesses that are Incorporated and Tax Savvy
Most businesses use PayPal as a conduit for debit and credit card funds to go directly into their local business checking account. Using the Business Debit card in a pinch is okay, but it's one more "bank account" to reconcile if you start extracting cash helter-skelter from the credit processing bank that is PayPal. Better to transfer ALL PayPal funds into your local day-to-day checking account to make tax time as simple and affordable as possible. PayPal sends you a 1099-K Tax Form that your tax preparer will need and can use quickly. The 1099-K form shows the GROSS annual income processed, as well as a handy breakdown of monthly sub-totals. As an individual or business in California your taxes are your responsibility.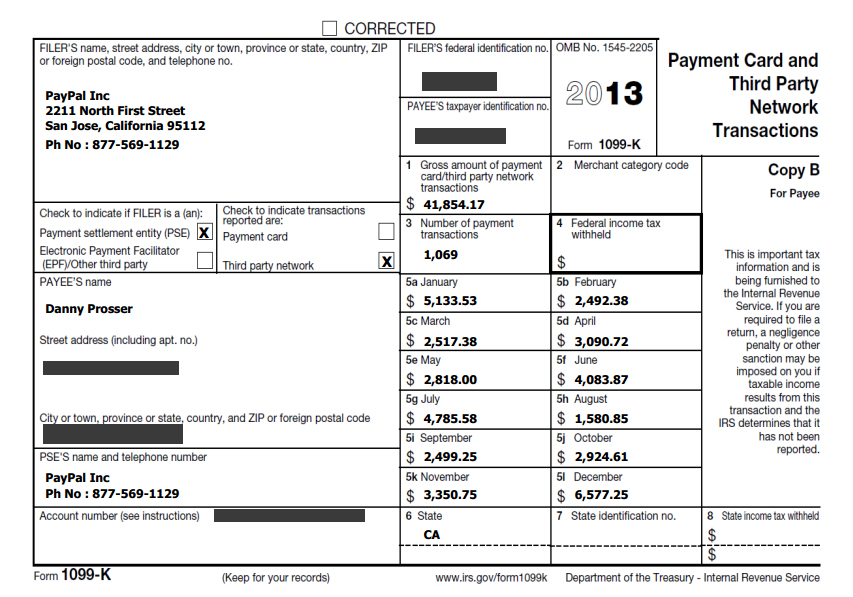 PayPal was instrumental in being one of the first credit card processors to stop all that nonsense of the 2-3 day "float" where credit card processors made millions of dollars leveraging 'funds float' (on your dime!) to earn interest in the overnight and weekends financial markets. Your PayPal funds will be typically in your local Wells Fargo, Chase, or ______ business checking account the next day — at 12:01 am —for the big banks— your funds paid to you yesterday will be in your local checking account. SWEET!
Every business should accept payment by credit or debit card as it simplifies business life immensely. No more waiting for the check in the mail! Nowadays the USPS is in the business of delivering junk mail and Amazon packages as their new "side gig." We recommend that you use electronic invoicing when you can and for ALL invoices, offer the option to pay you online.
Credit Card Processors that Work Well with Websites & Online Software
Talk to us when we sit down to help you with your QuickBooks setup, training, or Tune-Up. We'll likely suggest PayPal. In specific: PayPal Payments Pro
---
So Why the Hubbub about PayPal?
Why PayPal? – Because of ALL the connected useful services. As a business owner you can always get access to your money in your PayPal account. As a service it is friendly. As a company they have customer service that is AMAZING.
We'd recommend you call PayPal and talk to a business specialist about getting PayPal Payments Pro rather than setting it up online without help. You;ll be assigned an account representative, and you'll get more cool stuff faster. Yes it costs $30.00 a month, $1 a day, but that $360 a year is earned back by not losing a client that needs to float your bill or invoice on his or her credit card for your service or product. If you provide services it makes getting paid online IMMEDIATELY infinitely possible, super FAST, and EASY. No more stalling like the cliche: "check's in the mail."
Make Getting Paid Easy at ANY Hour 24-7-365
Many of your clients's bank balances will fluctuate. When there is sufficient funds to pay your invoice, it just might be 12:01 am when the backs reconcile your clients' deposits. If your invoice is sitting in your client's email INBOX and your invoices are setup to be PAID ONLINE (see Quickbooks screenshot below) and you did them a solid with your product or service, you are more likely to be PAID online when funds are available. No need to process a check. No need to call you the following day (if you have one of those clunky, old-technology credit card processing machines).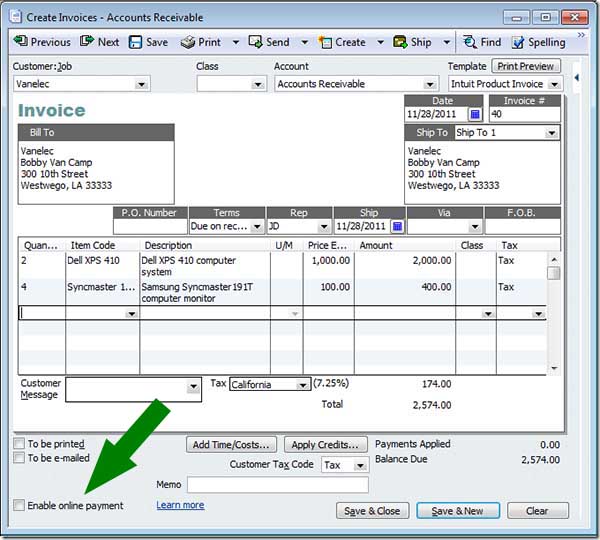 ---
Included in the

PayPal Payments Pro

is

PayPal HERE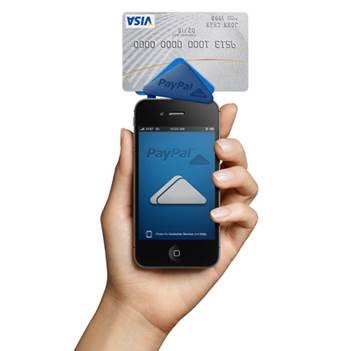 Included in the PayPal Payments Pro plan is PayPal HERE – which is that triangular thing that plugs into your iPhone or Android so that you can accept credit/debit cards in person, or from your vehicle or at your client's job or office.
The PayPal HERE device is FREE for the asking.
---
Included in the

PayPal Payments Pro

is

PayPal Virtual Terminal
Also included in the PayPal Payments Pro plan ($30/month) is PayPal Virtual Terminal – which allows you to have a client read you their credit/debit card number to you over the phone (or you take their card in your hand and right their in your office or on phone, phablet, tablet or laptop enter their credit or debit card information into the PayPal Virtual Terminal and you process their card on the spot. INSTANT MONEY IN YOUR HAND – no worries about waiting for a check or anything else ever. IT IS WONDERFUL for new business owners!