Tax Preparation Pricing –
Individuals and Businesses
Affordable Tax Return Preparation for:
Individuals & BusinessesIncome Tax Returns are our specialty! Every Tax Preparer is either a CPA an EA, or both. We are price-competitive, personable and approachable tax professionals.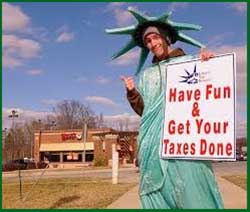 Our existing clients appreciate having the same CPA they know on a first-name basis prepare their tax returns annually rather than gambling on finding a new tax preparer each year.
Our new clients come to appreciate that our being available to answer questions and offer solid tax advice all year — rather than a few months during tax time — is very helpful. Our clients have tax questions arise throughout the year about events in their lives that might have costly tax consequences and call upon us regularly. We are here — all year…
For example, a big purchase like a home or investment property will certainly have tax consequences. Many of our sole proprietor clients chose to incorporate each year to take advantage of risk aversion and a better tax-savings strategy and will call upon us to advise and assist them to accomplish their goal. We think you'll agree that a CPA in your corner will make tax time less stressful while saving you money that you legally do not owe.
Many of our clients are business owners – and they have tax returns and tax filings to prepare monthly or quarterly. As year-round tax professionals, we do not vanish between "tax seasons".
---
INDIVIDUAL TAX RETURN PREPARATION PRICING:
PRICING:
Individual Tax Return
(Single Person, Married filing Jointly, Sole Proprietor)
$  50

– 1040-EZ –
Tax return Preparation prices begin at for a basic 1040EZ return.
$ 150

– 1040-A –
If your tax return is a bit more complex than a 1040-EZ, it probably falls into the 1040-A category. Many taxpayers who have various types of income, such as retirement or interest income, in addition to regular wages, but do not have personal deductions, would qualify to file form 1040-A.
$ 205 – Itemized Individual Tax Return – Our base rate for a simple itemized individual tax return is $205. This would include mortgage write off, tax write off, charitable and medical. Other tax forms such as credits and deductions would add some extra (but small affordable fees) to the base cost based on time and complexity.
$ 200.00 up – Self Employed Sole Proprietors' Tax Return –who will be required to file a 'Schedule C' is $200.00 and up. The 'and up" caveat is necessary because some self-employed, sole-proprietor's Schedule 'C's can be extremely extensive and time-consuming.
$ 205 to $ 250 – Family Tax Return Package – for an Average, Married, Affluent Tax Paying Family (filing a joint return) which includes the Federal IRS tax return and the local State of California Tax Return.
EXAMPLE:
Consider a recent average, married, affluent Yorba Linda family – they own a home with mortgage and mortgage interest deduction, multiple dependents including minor children and a college-age young adult living at home who has a part-time job, dual incomes for the husband and wife, investment income, lots of deductions. They require a basic basic Income Tax Return INCLUDING a couple of add-on tax forms to cover some of their reporting complexities. They will leave our office with a bill totalling, on average, between $205 to $250.
NOTE: If the parents or student –
want us to also address the college student's IRS and California tax returns, we can process his or her 1040-EZ (California & IRS) which would add another $50. Most working college students end up receiving a tax refund.
---
BUSINESS TAX RETURN PREPARATION PRICING:
PRICING:
Business Tax Return
(C Corporations, S Corporations, Partnerships, LLCs, Trusts)
$ 200.00 up

– Self Employed Sole Proprietors' Tax Return –
who will be required to file a 'Schedule C' is $200.00 and up. The 'and up" caveat is necessary because some self-employed, sole-proprietor's Schedule 'C's can be extremely extensive and time-consuming.
$ 400 to $ 450

– 'S' Corporation, 'C' Corporation, Partnership & LLC Tax Returns packages –
– these very typical business Tax returns which fall into the category of "non complex business returns" that are not required to be accompanied by a balance sheet, are billed at and average fee between $400 to $450.
$ 500 up – Complex 'S' Corporation, 'C' Corporation, Partnership & LLC Tax Returns packages – – that require a balance sheet start at $500 +
INCLUDED:
NO Additional Charge

–

(Individual – Sole Proprietor – Business)

The corresponding California State return – not an "extra". Your State Tax Return is included with your Federal IRS return. No games here…
E-file with Direct Deposit – You can receive your refund in as few as 10 days
Red Flag Watch – We review your returns for the "red flags" that trigger IRS audits
Tax Reduction Coaching – We will suggest things you start doing now to save taxes next year
Up to a 45 minute confidential Tax Advice – with your tax preparer to answer your tax questions —if you want. Included at no charge with Tax Return Preparation Services of $200 or more. You can ask us about ANY tax advice you may need clarified. FOR EXAMPLE:
What changes can I make in the coming year – to reduce my taxes for NEXT year's tax return?
Is it time to consider a living trust – and what are the benefits?
How might the current ObamaCare complexities affect – my taxes next year if I cannot afford to purchase a too-expensive health plan?
If I go from a sole proprietorship to an S Corporation – how much money can I save in taxes?
Whatever tax questions are on your mind – we will do our best to give you clear and concise answers.
Average Time to Complete Your Tax Return – as it turns out, our average tax return client needing a basic return, leaves our office with their return 90% complete. Later that day or the following day, the client will find the missing paperwork, or review their finances to better tally some missing income or find some new and legal deductions. When found they call, fax or email the missing data to us. We add the missing data. The tax return is now 100% complete and we immediately email a "DRAFT" PDF copy of the IRS and State returns to our client for their review and approval. If all is correct and acceptable, our client signs off and either (1) agrees to allow us to e-file their returns with the IRS and Franchise Tax Board immediately, or (2) elects to print the PDF tax returns at their home or office to mail the tax returns into the tax authorities via snail mail or FedEx.
---
UPSHOT?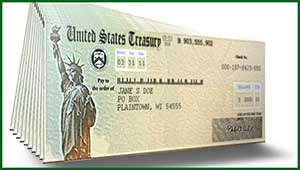 We don't nickle-and-dime our clients with extra fees. We desire long-term relationships.
We don't charge extra fees for e-file, postage, printing or extraneous services you don't need. We will not attempt try to sell you high-interest "refund advance loan" that will cost you hundreds of dollars for getting money a week early. If you are due a refund, the typical IRS wait is averaging 7-10 days for an E-File Direct-Deposit refund; and only 7-14 days for that green U.S. Treasury check to arrive via snail mail.
We are serious, professional CPAs and tax professionals. We like what we do. Most importantly, we thoroughly enjoy meeting new clients and catching up every year with our existing clients.
---
Payment Options
Our Fees – We accept cash, checks, all major credit cards.
Tax Payments – If you owe taxes, they can be paid by check or direct debit from your bank account, or with a credit card.
If your tax liability is too much —Not uncommon with increasing taxes and new ACA penalties — we can help you submit an IRS Installment Agreement, which will allow you to pay off your tax obligation over time and the IRS promises you — their policy — that they will not hassle you or continue ANY collection activities so long as you stay current with the terms of your agreement.
---