Business Tax Preparation
We prepare business tax returns for – professionals, investors, sole proprietors, partnerships, limited liability companies and corporations. Whether your business operates here in Orange County or has multiple locations, we can prepare and file your State and Federal business tax returns.
Like it or not, tax laws are so complicated that filing a seemingly simple tax return can be totally confusing. If you are not immersed daily –for years– in the tax profession, it is just too easy to overlook legitimate deductions and credits to which you are fully entitled. Even if you use a computer software program to play with "what ifs" and experiments.
You know what?
There's just no substitute to having your own TAX GUY on Speed Dial!
---
PRICING:
Business Tax Return
(C Corporations, S Corporations, Partnerships, LLCs, Trusts)
$ 200.00 up – Self Employed Sole Proprietors' Tax Return –who will be required to file a 'Schedule C' is $200.00 and up. The caveat is that some Schedule 'C's can be very extensive and time-consuming.
$ 399.00 to $ 450.00 – 'S' Corporation, 'C' Corporation, Partnership & LLC Tax Returns packages – – these very typical business Tax returns which fall into the category of "non complex business returns" that are not required to be accompanied by a balance sheet, are billed at and average fee between $399.00 and $450.00
$ 499.00 up – Complex 'S' Corporation, 'C' Corporation, Partnership & LLC Tax Returns packages – – that require a balance sheet start at $499.00.
INCLUDED:
NO Additional Charge

–

(Individual – Sole Proprietor – Business)

The corresponding California State return – (not an "extra" like many of those National Tax Prep Chains hit you up for). Your State Tax Return is included with your Federal IRS return. No games!
E-file with Direct Deposit – You can receive your refund in as few as 10 days
Red Flag Watch – We review your returns for the "red flags" that trigger IRS audits
Tax Reduction Coaching – We will suggest things you start doing now to save taxes next year
Up to a 45 minute confidential Tax Advice – with your tax preparer to answer your tax questions —if you want. Included at no charge with Tax Return Preparation Services of $199 or more. You can ask us about ANY tax advice you may need clarified. FOR EXAMPLE:
What changes can I make in the coming year – to reduce my taxes for NEXT year's tax return?
Is it time to consider a living trust – and what are the benefits?
How might the current ObamaCare complexities affect – my taxes next year if I cannot afford to purchase a too-expensive health plan?
If I go from a sole proprietorship to an S Corporation – how much money can I save in taxes?
Whatever tax questions are on your mind – we will do our best to give you clear and concise answers.
Average Time to Complete Your Tax Return – as it turns out, our average tax return client needing a basic return, leaves our office with their return 90% complete. Later that day or the following day, the client will find the missing paperwork, or review their finances to better tally some missing income or find some new and legal deductions. When found they call, fax or email the missing data to us. We add the missing data. The tax return is now 100% complete and we immediately email a "DRAFT" PDF copy of the IRS and State returns to our client for their review and approval. If all is correct and acceptable, our client signs off and either (1) agrees to allow us to e-file their returns with the IRS and Franchise Tax Board immediately, or (2) elects to print the PDF tax returns at their home or office to mail the tax returns into the tax authorities via snail mail or FedEx.
---
Small Business Tax Services
As a small business —or a medium-sized corporation— there are countless legitimate and legal ways to save money; save paying more taxes than you legally owe. With each administration, with each congress, with each session of the State legislature, tax laws are constantly changing. Annually. Often with opportunities you can take advantage of. Utilizing our small business tax services will help save you time and money with legal and appropriate deductions.
Our small business tax services include:
Tax filing
Payroll services
Health insurance tax laws
IRS communication and audits
Finding and taking advantage of legitimate legal deductions
---
Are Your Books a Disaster? No Worries!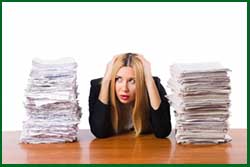 When you get right down to it, that's what we do. We clean up messes. We love it! If you own a small business and you have not kept your bookkeeping up to date — we can help you get straightened out. While we bill hourly, we are fast and efficient. We can clean up your bookkeeping for the current year (or any year/s you need) so that we are then able to help you keep your accounting up-to-date and address your Tax Returns.
Call us to discuss. (855) 791-1950 Let's get started.
---
Tax Services Tailored to Meet Your Circumstances
We can tailor our tax services for your needs –
whether as individuals or as business owners.
Newly Married Couples
A marriage is a blending of two people and two tax profiles. We can prepare your taxes as (a) individuals filing separately, (b) as married individuals filing separately, or (c) as a married couple filing jointly — even if the status will be changing in the coming years as you get your feet firmly planted.
Self Employed Persons – Freelancers – Private Contractors
We can assist you – with those pesky 1099 form's & complicated schedule C's.
Business Owners
We excel in helping business owners. Not only are we professional partners and business owners, we regularly teach accounting principles and skills to new and existing business owners. Surely we can be of some help to you.
Do You Insist on Doing Your Tax Returns Yourself?
We'll happily review your work to see if you've missed any deductions or are raising red flags up the flagpole. We'll make sure it's right before you file. Sorry, but during TAX SEASON, we may have to charge you a fee as busy as we are. Tax Season is Jan 2nd – April 15th.
---