Business Entity Formation – New Business Consultation
Orange County Tax Services helps existing sole proprietors and those starting a new business from scratch validate or choose the correct legal business entity that will make sense for you and your goals. Starting a new business or taking a sole-proprietor operation to the next level requires making a series of key financial decisions that will affect the profitability of your business over the long term. We will help you weigh the pros and cons of each legal entity form so that you can make an educated decision about the proper entity type that will get your business off to the right start. And all for an extremely reasonable fixed fee.
Understanding and Choosing the Proper Business Entity Type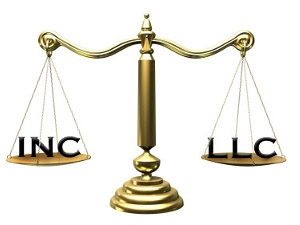 The form and structure in how you incorporate your business entity is vitally important. Selecting the right entity — partnership, LLC, S-Corporation or C-Corporation — can contribute to your success while choosing the wrong business entity can end up costing you a lot of money. Here at Fullerton Financial Service, Inc., our CPAs understand the advantages and disadvantages of each form of business entity available in the State of California and how to determine which one is the correct choice for a business in your industry and of your size.
Moreover, as seasoned tax professionals, we will work with you to weigh the pros and cons of the best entity that will help your business minimize its tax burden while maximizing net profit.
---
Affordable FIXED FEE Business Entity Creation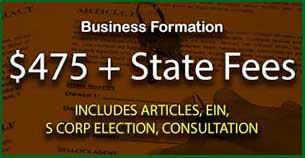 We are extremely competitive in that we have a flat fee of $475.00 + state fees to prepare and file the business formation documentation.
Call us today at (855) 791-1950. We'll set up a phone or sit-down appointment to discuss, choose, and start the documentation for your new business entity and its legal formation.
---
Popular Forms of Business Formation
When considering how to incorporate a new business or take a sole proprietor business to the next level, a qualified CPA firm such as Orange County Tax Services can explain the unique tax and legal implications. We'll carefully evaluate your business, its type and size, and help you evaluate which type of business entity best suits your needs. Some common forms of incorporation are:
Limited Liability Company (LLC)
An LLC (Limited Liability Company) is similar to a corporation or a partnership. The LLC can protect the owners (legally referred to as "members") from personal liability for the company's unpaid or challenged financial obligations. For tax purposes, an LLC is generally treated as a non-corporate business organization.
Limited Liability Partnership (LLP)
An LLP (Limited Liability Partnership) is a business entity that includes general partners who have management authority and limited partners who invest cash in the company but with no management authority. General partners of an LLP have personal liability for the firm's obligations, while limited partners receive some liability protection in that they are liable only for the amount of their investment similar to that of the shareholders of a corporation.
NOTE:   As of January 1, 2016, California limits LLPs to just three professions:
(1) law, (2) public accounting, and (3) architecture. If you are not licensed in one of these three professions, you won't be able to form an LLP in California. All other California professionals who are licensed to provide professional services in California, might ask us to explore a variant: a California professional corporation (PC).
C Corporation
A C corporation is a separate legal entity (like a person). It can sue or be sued. Because a C corporation it is a separate legal entity, its owners or shareholders have no personal liability for the company's financial obligations unless they are careless or fail to maintain their corporate structure. A C Corporation is taxed as a separate entity on its income and must report profits and losses on a corporate tax return. Its shareholders also must pay taxes on any dividends or income they receive. Some call this "double taxation", something that can be avoided by electing to be an S Corporation — which is often called a "pass-through tax entity".
S Corporation
Self-Employment Tax Savings – possible with an S Corporation
Similar to a C corporation, an S corporation is a separate legal entity, but it differs. S Corporations are "pass through tax entities" as are most partnerships and LLCs. That means that profits (after salary, benefits such as healthcare and business expenses: meals, travel, business vehicle, depreciation of office equipment, computers, etc.) are only subject to the owner's ordinary income tax bracket. An S Corporation with more than one shareholder will have to file an informational K-1 tax return, but the corporation itself does not pay any income taxes. Instead, the individual shareholders (owners) must include their share of the corporation's profits on their personal tax returns, paying tax at their individual tax rate.
EXAMPLE:
  Consider a hypothetical structural engineer who works from home and earns $140,000 per year on average. His wife makes a good supplemental income as a part time Graphics designer 25-30 hours per week while their children are in school. They have been filing joint tax returns for years. The tax bite for the two of them, considering the engineer's income, is significant. As a joint-filing couple, they might consider setting up an S Corporation (___Structural Engineering, Inc.) where both the engineer and his wife are the owners (shareholders) and the engineer elects to pay himself an annual salary of $60,000
**
. By setting a reasonable salary, his payroll taxes are known and capped. With the help of a payroll service processing his payroll including filing quarterly 941 and 940 forms and an end-of-year W-2 is painless and requires only few minutes each month (e.g. we process S Corp owner-only payroll for $45/month including quarterly tax forms and filings, and W-2). At the end of the year our engineer receives a simple W-2 just as his wife does. Any profits — remaining net funds (after salary, benefits and business expenses) — instead of being treated as wages and heavily taxed, are instead treated as simple income:
a self-employment tax savings
that is often significant.
Our engineer saved thousands of dollars over the former "sole-proprietor" status.
** Choosing a "reasonable" salary and a myriad of potential S Corp mistakes really does require the initial advice and guidance of a CPA or attorney.
Call US at (855) 791-1950
Call now to check on your entity name availability and to schedule a phone or sit down appointment to review your proposed entity choice, answer any questions if you are uncertain about the different entity types — pros and cons — or to answer any other related questions you have.